The COVID-19 Pandemic caught all of us offguard and has thrown our economy into disarray. The world is a much smaller place, and something happening on the other side of the globe can travel around the world at lightning speed and hit us seemingly from all sides.
COVID-19's business lesson is: we need to be prepared, and the best way for your business to do that is to create, test, and keep evergreen a Disaster Recovery Plan (DRP).
The statistics are frightening. PhoenixNap reports that 75% of small businesses do not have a Disaster Recovery Plan. With this statistic in mind, now you can understand how our whole economy is in free fall because of an unexpected and unplanned event. We need to do better.
XSolutions is here to help. We've fully updated our FREE Disaster Recovery Plan Template, adding tabs for a Pandemic Workspace Plan, Server Recovery List, Cloud Applications Backup info, and more.
Our template is in Microsoft Excel format; each tab represents a specific topic. There are 20 tabs, all hyperlinked, so navigation is super easy. There is no registration, just download and use it.
You can use the template as a starting point by filling in the information about your company, and since the workbook is not password protected, you can add tabs as the need arises. This template will allow you to get a written DRP up and running very quickly.
Don't be part of the majority of small businesses that ignore this significant managerial responsibility. Start planning now for the next Pandemic and anything else that may come your way. Plan to survive and thrive when the next disaster strikes.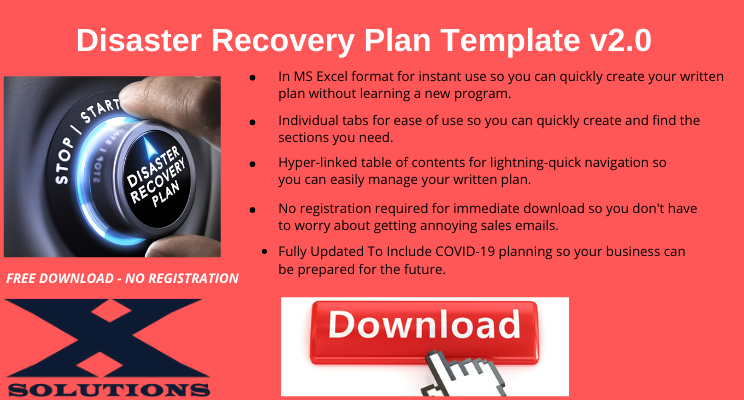 XSolutions is an Elite Partner of Datto, the world leader in Hybrid-Cloud Business Continuity solutions whose systems protect 460+ Petabytes of data with over 1400+ employees and 9 offices around the globe. Call (845) 362-9675 and let us introduce you to the ultimate defense against data loss—whatever the cause. Backup & Disaster Recovery | Business Continuity | Data Risk Assessment
https://xsolutions.com/wp-content/uploads/2020/05/Closed-COVID-19-Small.jpg
483
724
Joe Imperato, Sr.
https://xsolutions.com/wp-content/uploads/2023/09/XSol-Logo-header-300x138.png
Joe Imperato, Sr.
2020-05-19 12:43:23
2021-05-25 15:24:33
COVID-19 Business Lesson - You Need A Disaster Plan